FaceFX Support
FaceFX Documentation and support
Face Graph Select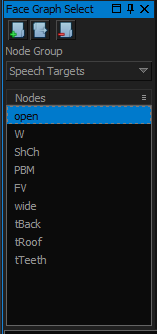 The Face Graph Select Widget is used to create node groups and select nodes in the Face Graph.  Node groups are useful with complicated Face Graphs.
Top Buttons
Add - Creates a new Node Group.
Remove/Delete - If a node group is selected, this button removes nodes from selected Node Group.  If a default group is selected, like this button deletes the node in the Face Graph (notice that the icon on the button is different depending on the type of group that is selected).  The key can performs this operation.
Delete - Deletes The selected node group
GUI
The Face Graph Select Widget can be:
Displayed on the left of the application. 
Torn off the application and used as a floating window.
Closed entirely.  Once closed, it can be displayed again from the View menu.
Node Group Layouts
By default, each user-defined node group gets its own face graph layout that only shows the nodes that exist in the group.  You can toggle this behavior by right-clicking in the Face Graph widget and selecting: "Don't use separate work areas for user-defined node groups"